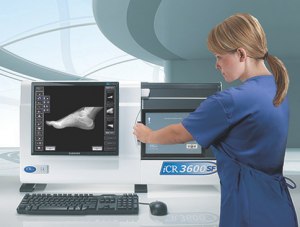 The iCR3600SF™ will transform your ofce into a modern imaging facility. Ideal for extremities and podiatry imaging, the iCR3600SF is the only small format CR specifcally designed for your practice. Its compact size and wall mounting capability makes this CR second to none. The iCR3600SF also ofers our patented True Flat Scan Path™ technology for exceptional image quality, high through-put and low cost of ownership.
The iCR3600SF is a complete integrated
solution. It is paired with the superior image processing software XC™. With the robust and feature rich XC, you get optimal image quality with the ability to manipulate images further to your preference.
iCRco is a leader in bringing you the
most innovative technologies in medical imaging for almost 20 years. Your customers will see you as part of the innovation once they see how quickly you can bring them into the diagnostic process with the iCR3600SF.
Download Brochure